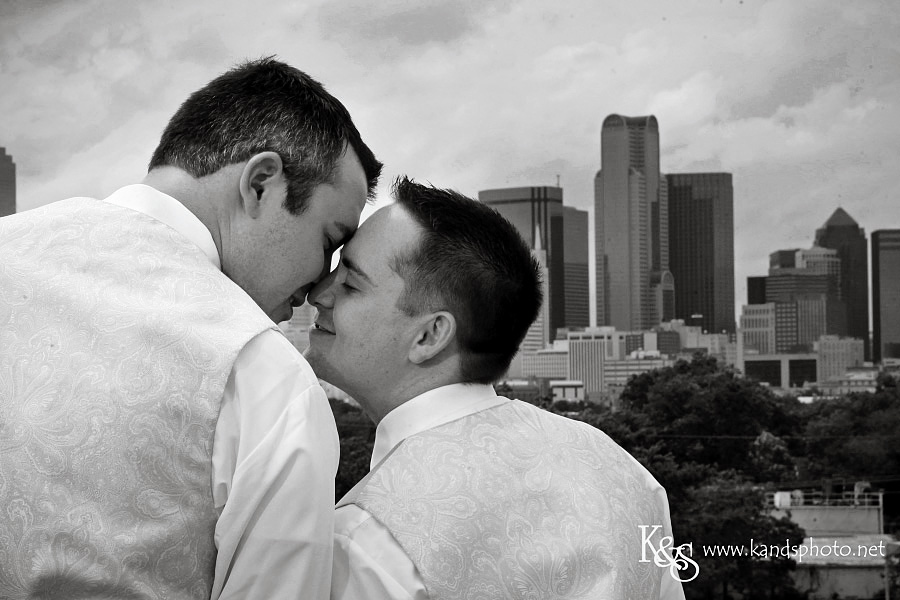 This past Saturday we had the honor of photographing Andy and Doug's Dallas wedding  at Off The Grid.  The weather didn't quite cooperative as we kept the weather channel app open and crossing fingers the outdoor ceremony would occur.  No such luck after the skies opened up twice and the rain poured.  Andy and Doug took it in stride as a back up plan was decided on.  Rachel with Rachel Events was quick to make it work and it actually worked out better.  This ceremony was so emotional and the everyone cheered and shed happy tears and clapped at the end of Andy and Doug's commitment ceremony.  It was very emotional to hear the echos of the cheers and claps and brought them both to tears..  An outdoor ceremony wouldn't have had that over-roaring cheer. After the ceremony, Andy and Doug were so lovingly embraced by their parents and more tears were shed.  You could really feel the love and support they had for them.  Everyone then moved to their seats for the reception and enjoyed some home cooking, courtesy of Babe's Chicken.  Then the party began and the dance floor slowly filled but once it did, everyone danced the night away.
Doug and Andy with their good friend and officiant.  Love this shot of them 🙂
I am just in love with these arrangements by Dr. Delphinium
Such a beautiful cupcake and cake-ball display by Schrödinger's Cakes 
Jordan Bell with Spin Productions kept the party going and everyone was having the best time dancing.
Congratulations to Andy and Doug!!!!!!  We had so much fun photographing your special day!!!!!