Mark and Danielle wedding at the Dallas Arboretum was a fun-filled spring wedding at the Lay Family Garden. The day was perfect for these two lovebirds to tie the knot. They have the cutest "how we met story" they wrote so I wanted to share it.
"Mark was pumping iron at 6 in the morning when he ran into a very large fellow named Darryl.  They struck up an enjoyable conversation in which Mark thought, "this guy is super cool… we should be friends."  Seconds later, Darryl asked "are you single?"…  Suddenly Mark panicked, thinking he gave off the wrong impression he began to stumble over his words.  Realizing his misstep, Darryl quickly said "ohhh…. I'm engaged to a girl, but we have a lot of pretty friends and you're a cool guy."  Flattered, Mark said thank you but he wasn't interested at this time as he was too busy.  He also wasn't sure about meeting a girl from a guy he literally just met.
Unbeknownst to Mark, Darryl told his beautiful friend, Danielle, about this dashing young man.  Danielle was intrigued and pestered poor Darryl for 3 solid months about when she was going to meet Mark.  Tired of being the middleman, Darryl texted Mark a picture of Danielle with her number saying if you're interested to give her a call otherwise I'm staying out of it.  Mark had never seen someone so beautiful and drafted about 200 texts before finally contacting Danielle.
It was love at first text.  Danielle was thrilled to finally hear from him and she ate up his witty and nerdy humor (about time someone finally did).  Unfortunately, Mark was sick so they set a date to meet the following week.  They texted every day and night longing for each reply.  That Saturday night, Danielle had big plans to go to her 10 year high school reunion.  Mark's big plans were getting art supplies at Michael's and making minion pumpkins.  Danielle talked to her friends about this mysterious guy while Mark slaved away at his crafting.  The party had ended and Mark was about to go to bed, when he got a text saying "I'm hungry for pancakes, do you want to go with me?"  Who is this girl?  She has to be crazy, right?  After a few minutes she texted back saying "I'm never spontaneous, let's go eat pancakes!"  Even though he was sick, Mark could not resist and said "I'm on my way."
Mark picked Danielle up at her apartment and they went on to Café Brazil where they had some of the worst pancakes known to man.  They told stories and laughed the entire time.  Mark learned quickly that Danielle cared more about the whipped cream on her hot cocoa than the hot cocoa itself so he flagged down the waitress to get her more whipped cream.  Game over, she was in love.  Mark warned Danielle that he was directionally challenged and needed her assistance to drive her back to her apartment.  She told him to turn right… he thought for a second and then turned left telling her he wasn't ready for the date to end.  They talked about music and sang songs to each other for hours as Mark got lost in the outskirts of Dallas.  It was finally time to take her home…  At that moment, both knew their home was with each other. "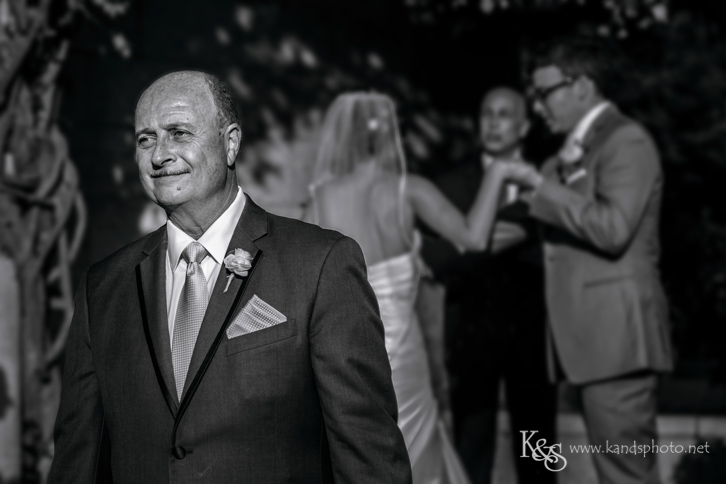 Wedding Vendors that made Mark and Danielle's Wedding so special